Reading time: 3 minutes
You will never be so luckier before if you are planning to celebrate Housewarming and birthday party on the very same day.
Imagine celebrating your birthday party on your first home, which you have earned for years of hard work. The result would be lifetime memories.
Right?
Generally, people have myths in their minds about joint parties. I mean, they think what will their guest say or believe that throwing a combined party is a tedious task.
In this article, all your queries will clear up, and you will learn some valuable tips that help to throw a successful joint party.
9 Reasons Why Should you Throw Housewarming and Birthday Party Together?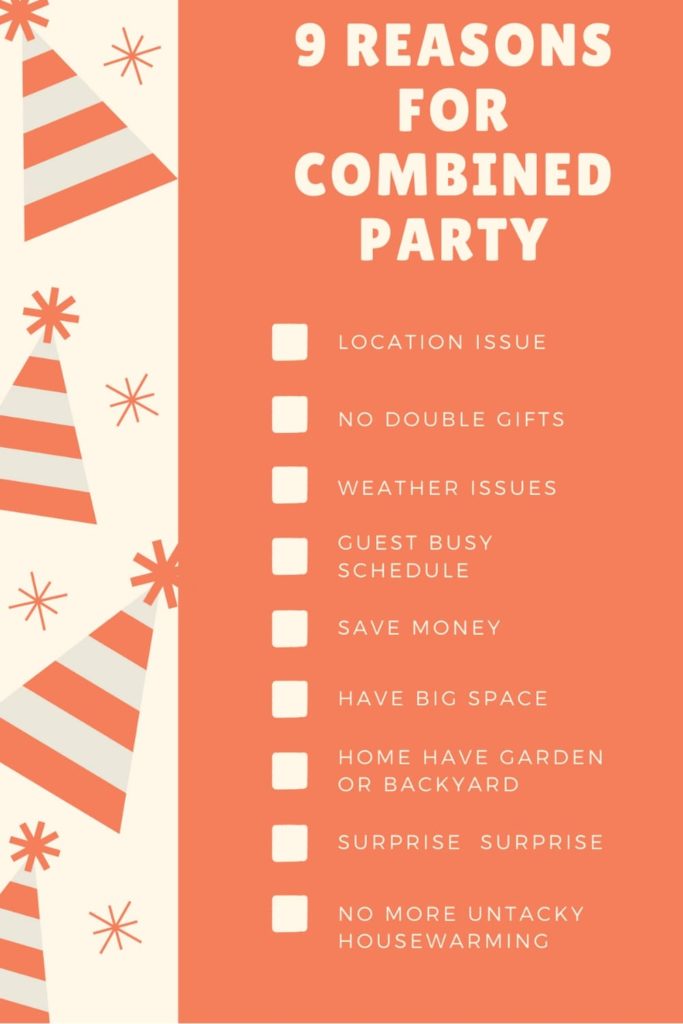 Location issue: Have troubles in finding the perfect venue for your birthday party? Guess what your new apartment is ready to make your life easier.
Avoid double gifts situation: If you throw a separate event for Housewarming most probably the guest will bring you a gift. Again somedays later you will throw another occasion of Birthday the guests need to bring another gift which seems very odd. To avoid this awkward double gifts situation, throw a joint party and mention in the invitation that if somebody likes to bring a gift, please give only one.
Weather issues: Have your city dealing with bad weather? Then probably the best idea to throw both parties on the same day. Bad weather causes troubles such as electricity failure.
Guests busy schedule: In today's rush life everyone is busy. It is challenging to plan a party according to the guest schedule. Asking them to come for two parties is not the right solution. Instead, throw one grand party.
Save hard money: No doubt as you recently buy a new home, your pocket has already empty. A new home means new expenses. You may need to purchase things or pay your home EMI. In that situation, avoid multiple parties.
Already have plenty of space: If you haven't yet shifted your stuff in your house, it means you have plenty of space available—no need to searching for a venue. You only need to make arrangements for things like chairs, tables, etc.
The new house has a garden or large backyard: Parties in their garden are fantastic—no need to worried about timings. You can expand the party timings as much you want.
Surprise! Surprise! Surprise: Are you still keeping the secret of a new home from your parents or friends? Then plan a birthday party and ask them to visit the venue. They will be shocked.
No more tacky housewarming: Some people believe that a housewarming is no more an event. But believe me, it is. Calling them for a joint party rather than the only Housewarming, they will certainly not ignoring the invitation.
Advantages of Combined Housewarming Birthday Party
There are plenty:
Two parties mean double celebration means double fun.
You can save an entire cost of 1 party which you will probably spend on essentials thing for the new home.
Although, it seems odd to provide gift registry for Housewarming. But it is feasible for a birthday party. As a result, you would get the gifts of your choice without being rude.
Saves time
Housewarming is a short length party. You can quickly expand it with your Birthday. You can host more fun entertainment activities and games.
What Others are Reading – You should check it too!
Useful Tips to Keep in Mind When Planning for a Joint Party
Customize the invitation wordings and banners
The essential change to make in the invitation when throwing two parties:
Whether you are planning to send an invitation by mail or through housewarming online invitation templates. There are some changes you have to make, such as:
1. Party title: for example "Hamlin's Housewarming" to "Hamlin's 38th birthday in his new home."
2. Venue location: The guest probably gets confused about the two venues. Before they call you to reconfirm, it is the best way to mention in the invitation something like this: "The venue and date of both parties will be the same"
3. Party timings: Along with the start and end times of both parties, you should mention the schedules of other activities too.
For example:
Housewarming celebration: 2 pm to 4 pm
Birthday celebration: After 4 pm
There are chances that any individual gets late. To get updated, you can mention on the backside of the invitation like:
"Please inform us through our RSVP if you are arriving late. We will wait for you!"
4. Mention about only one gift: Guests might bring you two gifts, but it is remarkably odd. You should mention on the invitation something like this:
"We just want your good time; please do not bring a gift. If you still want to give something, please bring only one present."
Note: To receive gifts according to your gift registry, do not mention the gift registry link or list over the invitation card which seems rude or inappropriate.
Instead, you can mention something like this:
Please free to ask through "RSVP" if you have any gift related queries.
The chances are higher and if they call or contact you and ask about your wish list then only you can share your gift registry with them. This must be the polite approach to sharing a gift registry.
Don't get overwhelmed.
Do not get panic at the thought of planning joint parties! It is very much similar to throwing a single party. You could only need to make a few changes like preparing two cakes instead of one, hosting extra 2-3 fun activities, scheduling activities, etc.
Have varieties of drinks and foods
Usually, in Housewarming, only adults are supposed to come and the party length is also quite less as compared to the birthday party. So the food requirement is less.
When throwing a joint party, include plenty of food and drinks. The guests will take a bite or sip wine very frequently.
If the Birthday is for your kid, then you should count non-alcoholic drinks on your shopping list for his/her friends.
2 Cakes or one big cake
It is so common that you get confused to bring one cake or two because of the joint party. It totally depends on your choice.
You can do one thing if you are bringing two cakes, then one of your family members can cut a housewarming cake and a birthday girl/boy can cut a second cake.
Celebrate Birthday first or Housewarming?
Doing the honor of the birthday boy and asking him would be the better option. Otherwise, you have two choices:
1. Celebrate simultaneously: Housewarming at early evening then Birthday at night
2. Celebrate Housewarming in the afternoon. Serve delicious foods to guests and take them rest for a while then blast a birthday party at night.
Don't let guests die from boredom. Plan multiple games and entertainment for fun such as live dance, BBQ, dumb charades, gifts ceremony, photo session, etc.
You can also organize a sleepover for some close friends, which will make your Birthday ending unforgettable.
Stick to 1 theme for the whole party
Yes, we are celebrating two parties at once but managing decorations according to 2 themes is not affordable. I mean, it is very time-consuming and looks odd.
The better option is to decorate your house and implement only one theme according to the desire of the birthday boy/girl and make arrangements for party supplies such as plates, labels, table cloths, napkins, menu, etc.
Some popular themes for boys are:
Avengers
Dc Superheroes
Pirates
Favourite car
Camping
Popular games such as PUBG
Breaking Bad
Some popular themes for girls are:
Teddy bears
Pink
Barbie
Black
Angels
Flowers
Pets (Dogs, puppies, cats etc.)
Keep housewarming birthday party playlist handy.
Housewarming is an event for couples who most probably like romantic songs. You should add some good music from Spotify to your playlist before the party.
My top romantic songs, including
1. Powfu – Death Bed (Lyrics) "don't stay away for too long."
2. Coldplay – A sky full of stars
3. Coldplay – Hymn for the weekend
For a late-night birthday party if you are willing to set up DJ or high-performance music system, don't miss out on popular EDM's available on Spotify.
Note: To avoid noise trouble, inform neighbors in advance that you have a party tonight.
2 Parties? 2 outfits
Yes, this is the special advantage of throwing Housewarming and Birthday together the birthday boy/girl is getting.
After the first half of the party, one should change his/her housewarming party dress and involve fully in the birthday environment.
Party Host
To make longer parties successful, plan two individuals for hosting the party so that the guest won't get bored. Both hosts should plan their activities respectfully.
Conclusion
What is your opinion about throwing Housewarming and birthday party together?
Share in the comment section!
Follow us on Pinterest to get interesting content related to Housewarming!
What Others are Reading