Do not spend more than $100 on Housewarming Gift
It depends on who you are giving to. For employees or colleagues, $20-$40. For boyfriend/girlfriend, $30-$50. For best friend, $50-$200. For a couple $50-$70. For Parents $100-$200.
The next question might be popping in your head is-
What is the right type of gifts should I choose for a housewarming?
The simple answer is to think about what type of function you are inviting for. Housewarming, as you already know, is the celebration of newly purchased home. Giving clothes, gadgets, and electronics like T.V, mobile phone etc. is senseless.
You should always give something practical gift that makes sense or contributes to the person's new home.
New home buyers are always looking for new stuff for their home like curtains, kitchen items, tool kits, cleaning supplies, unique decorative products, etc. These types of products are not only cheaper but can fulfill their needs.
In this article, you will be going to see some selected housewarming gifts which are affordable and totally recommend adding to a housewarming registry.
There is plenty of kitchen care, household things you can gift under $30.
Tapestry (Under $10)
Ceramic Planters
Printed pillows
Knives
Shovels
Electric kettle
bed sheets
Ziplock baggies
Fire extinguishers
Welcome mat
Recipe books
Curtains
Shovel
Broom
Some special handpicked Housewarming Gift Ideas for Kitchen are waiting for you.

See on the link above.
Housewarming gifts: $30-$50
Iron skillet set
Beautiful candles
Slow cookers
Giftcards (more than $40 seems nice)
Fire escape ladders
Firewood
Housewarming Gift box (My favourite. Choose this when your head went blank)
Housewarming gifts: $50-$100
Wine racks
Kitchen/Utensil racks
Address plaque
Folding tables
Bathroom cabinets
Portable toaster oven
Housewarming gifts: Above $100
Mowers
Home Studio/ Music system
Solar panel
Expensive wine racks
Air compressor
BBQ grills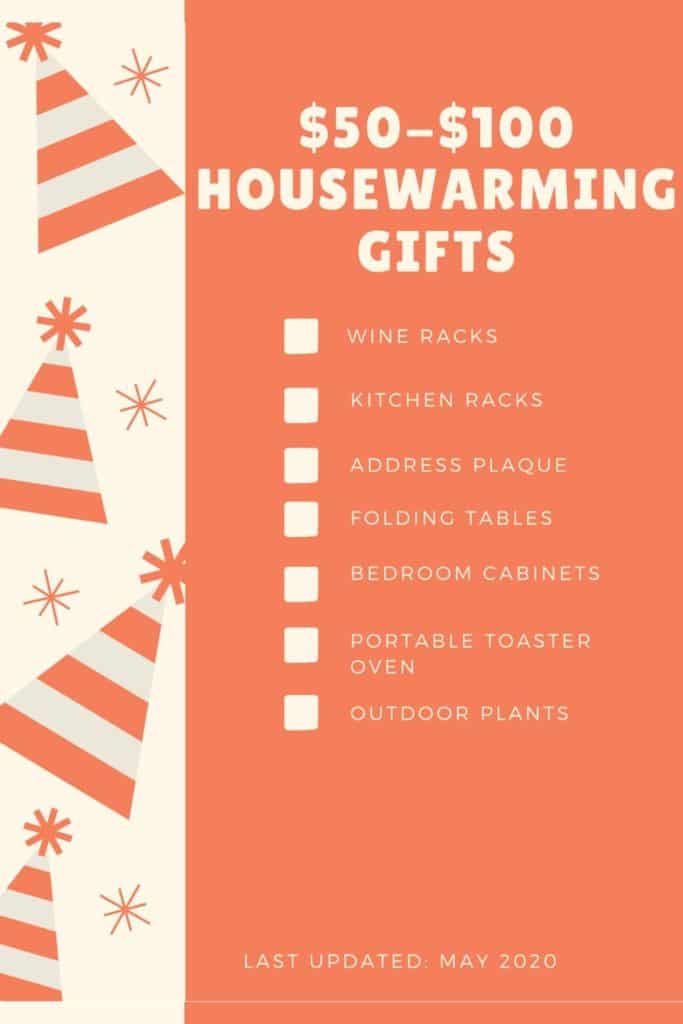 FAQ
How much should you spend on housewarming gift box?
The gift box doesn't cost you more than $50-$60. Indeed gift box is one of the easiest pick-up gifts for a housewarming. It will be 100% guaranty that your guest will adore your gift pack, the most.
These gift boxes or kit are available online, but you can also create on your own. Just decorate the box and fill the stuff.
A Housewarming gift box usually incorporates these items inside it:
Congratulation card
Hand soap
Moisturizing lotion
Tea towel
Notepad with pen
Hammer/Screwdriver set
Candles
Bottle opener
Welcome home card with envelope
Caramel candies & dark chocolate
Small Live pot like Faux
Wooden spoon
Pure Honey Jar
More…
How much should you spend on Housewarming gift bags?

In the range of $5-$10, you will get attractive housewarming gift bags.
Don't get confused! They are used for carrying the gift but yet useful as much as the gift. Purchasing a gift bag along with the gift from the same store is a convenient way so that both have come together on the same date.
How much should you spend on Housewarming gift basket?
Similar to the gift box, you don't need to spend more than $60 on the housewarming basket or hamper. Gifts basket is available online. However, you could use any basket available in your home just decorate it a little bit and put things inside like honey, lotion, soap, fruits, vegetables, etc.
How much should you spend on a housewarming gift card?
Avoid spending more than $10 on congratulation note cards. Store like Etsy has attractive card designs just waiting for you. You can also put the same card inside housewarming gift box or basket.
Should I bring a housewarming gift?
Yes, why not. At least you should bring a small gift box, or maybe a utensil (knives) set cost which does not cost you more than $20-30. It is a matter of courtesy and respect. The person is throwing a giant housewarming party. They should deserve a gift even if they are not asking in the invitation card.
Conclusion
Do not blindly follow the price etiquette for the gift. If you want to spend a $1000 bucks, go for it. Price doesn't matter, right?
Now it is your time to mention in the comments… Which gift would you choose?
If you find any difficulty over gift selection, mention this too. I will be happy to sort things out for you.
Follow us on Pinterest to get interesting content related to Housewarming!
What Others Are Reading
The housewarming furniture gifts ideas you'll find in this post are cheap, compact, unique, decorative, and totally practical to give as a gift.

---