So, you want to create housewarming invitation online through WhatsApp without spending money, right?
Well, you came to the right place. In this article, you will see the 3 easiest ways to create a Virtual Housewarming invitation that can be sent immediately to your guest's online through your smartphone.
Yes, we will also discuss the method to make a housewarming invitation video for WhatsApp.
Before moving ahead, it is very important to discuss reasons to go for virtual housewarming invitations rather than Printed housewarming invitations.
Note: This guide is also applicable when housewarming hosts want to create digital housewarming invitations.
4 Reason to Go for Virtual Housewarming Invitation
1. Save Money & Trees: This should be the primary reason for choosing the online way of invitation to a housewarming party. The party host can easily cut the invitation printing and courier cost by opting for free online WhatsApp invitations.
2. Hassle-Free Tracking: Online invitation tools allow you to track RSVPs so that you are completely aware of who is going to attend the event and who is not.
3. Fast Delivery: Unlike offline party invitations, online invitations will reach your guest inbox in a second of time.
4. Video Invitations: Video invitations can only be possible online. You can't print a video on paper.
Spoiler Alert Are you in a rush and do not have enough time to go through the whole article??

Then consider this quick summary and make a quick decision on the best online housewarming invitation maker app.

Go with method 1: Canva when you prefer awesome housewarming video invitations instead of photo invitations.

Go with method 2: Greetings Island Mobile Invitation app when you quickly want to create a housewarming invitation to share on WhatsApp without spending any money and when you don't care about RSVP tracking

Go with bonus method 3: Etsy digital invitation when you want to create a unique invitation design and amaze your guests.
What Others are Reading — You Should Check it too!!
How to Create Housewarming Invitation for WhatsApp (VIRTUAL)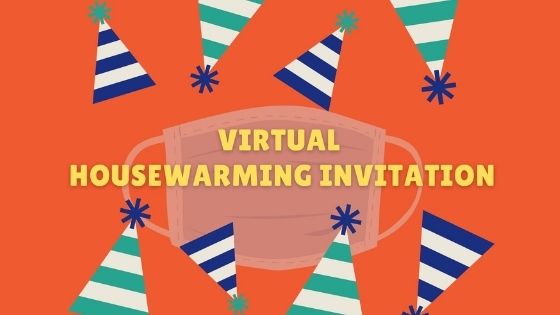 To create an virtual housewarming invitation:
First, navigate to the online invitation maker website. Example Canva.com. Or install an invitation maker app on the smartphone. Example Greetings Island.
After that choose the editable invitation template and customize it by entering the name, new home address, and party timings.
Finally send the invitation through WhatsApp, Facebook, or Email directly.
Let's see the actual methods to design Housewarming Invitations online.
Method 1: Using "Canva.com" – Housewarming Invitation Video Maker App
Since 2012, Canva.com is continuously helping the party's hosts in creating video invitations for all types of parties including housewarming. With this online housewarming video invitation app you can design a beautiful short animated invitation video and send it to your guests digitally.
Wait!!! 😦😦😦

Do you want to save your time? Then simply find the links to these editable video invitation templates below.

Tap on any editable template mentioned below. Change event information, Then send it to your guests right now.
These are the free editable animated housewarming invitation templates I created with Canva… Just tap on them to edit.
Creating Housewarming video invitations with Canva is not a difficult task. Just follow the below steps:
How to Create Housewarming Invitation Video Online with "Canva"
Do you want to learn the housewarming invitation creation process from the video instead of the boring text? Then watch the below video available on YouTube.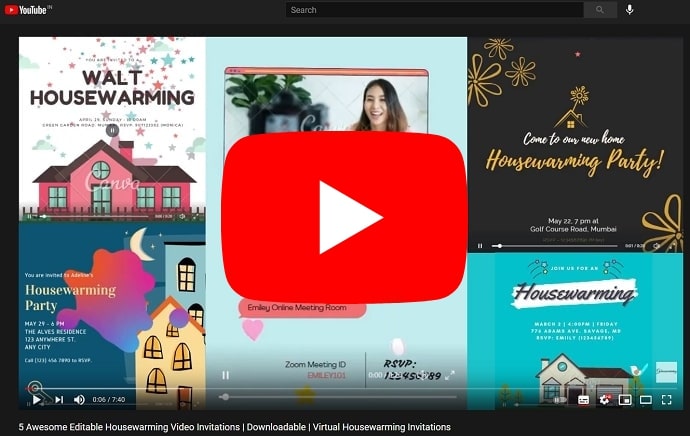 Step 1: Open Canva.com
Open Canva.com on the browser and signup with Google or Facebook account. Then navigating to the template page and type "housewarming" in the search box and press enter.
Step 2: Pick a Template
You will see a list of templates (both premium and free) are available to use.
I chose the above editable housewarming video invitation template showing in a GIF. If you like other templates, you are free to explore them.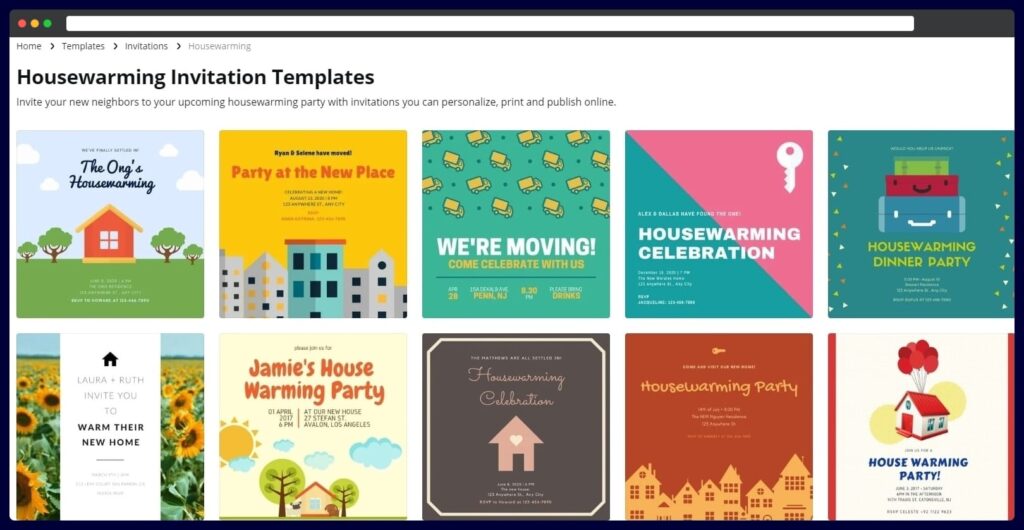 Step 3: Get the Interface Overview of the Canva Housewarming Invitation Maker
After selecting the desired template, you can see a window similar to this. On left, there are few options available such as templates, shapes, elements, etc. which you are free to use on your artwork. At the center, you see an artwork window that might be free or premium depending on the template.
Step 4: Editing the Housewarming Invitation
When you hover over the artwork area which you want to edit, you will see a pink grid box. Just click once to select the box and double click to edit the text/image inside it. When you choose any element, you will see multiple options such as font size, font type, alignment, style, etc. are appear on the above toolbar.
Now over this housewarming invitation design, change the address, timings, date, RSVP details of the party by double-clicking on the particular grid box and select the entire text and insert yours.
Note: You can also add a customize housewarming invitation message on the invitation. From here you can find the latest funny housewarming invitation wordings.
Now before moving further, I highly recommend lock every element when you are done with it from the top-right toolbar. So you won't change them further by mistake.

Step 5: Add the Magical element to convert a normal invitation into an animated housewarming invitation
So far you have edited the basic event information on the invitation. Now it's time to add an animated element. For this simply navigate to the element tab from the left toolbar. Now here you need to find animated elements that look appropriate to add to the party invitation.
Search these party elements, and remember you have to choose an element that is animating:
Sparkles
Stars
Party
Key
Pinata
Balloons
Confetti
Color Splash
Glitter
Decoration
Steamers
I found an amazing red animated star element.
Simply drag it from the element tab and drop it to the artwork area. Now adjust its size from corners and make sure to push this animated layer to the behind of all elements. To push it back, select the animated element and tap on the position button, and click on the "to back" button.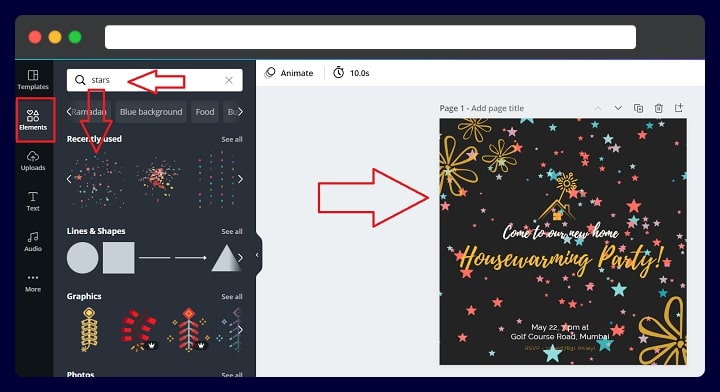 Now your housewarming invitation should be animated like this:
Step 6: Add the Audio to the Housewarming Video Invitation
Invitation without audio seems dead. You have to add audio to the invitation before sending it to the guests. To add audio, you have 2 options: Either upload your own music track to the Canva or simply use the track available in the Canva audio library.
To add a track from the Canva audio library, navigate to the "Audio" tab and choose any track you like. When you find the perfect audio, simply drag it to the artwork.
Step 7: Adjust the Housewarming Invitation Video Length
Now before sending the invitation, you need to set the invitation length. There is no limitation but don't keep it long. 20-30 seconds is enough. To adjust, tap on the watch icon then insert the number of seconds, and click on the done button.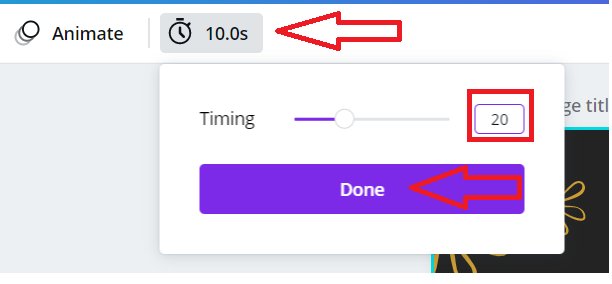 Step 8: Preview, Share or Download the Animated Housewarming Invitation
After editing is complete, your invitation is ready to send. To preview simply tap on the middle button showing in the image. To generate the shareable link, tap on the share button. For download, tap on the download button make sure to select MP4 as a file type and select the number of pages. If you have more than one page in the artwork you have the option to include all of them in a single video.
Canva Invitations Pros
Custom music can be added to the video invitation.
Easy to use video editing interface with lots of editing features such as filters, color schemes, rotation, animation effects, etc.
The video invitation can be download, share on Facebook or Twitter, and print directly in the form of an image invitation.
The party host can also add a new home logo to the housewarming video invitation.
Mobile application is available
Canva Invitations Cons
Housewarming Invitation with an RSVP tracking facility is not available.
Canva doesn't have an email reminder feature which alerts your guest's few days before the Housewarming event.
Method 2: Using "Greetings Island" – Free Housewarming Invitation Maker App
Greetings Island is one of my favorite housewarming invitation card app because it does not only have 100's of housewarming invitation but also help me to create any type of party invitation such as Christmas, New Year, Birthday, Graduation party, etc in only 2 minutes. It is the only 4.5 stars rated invitation app maker available on the Android play store that has more than 5 million active users.
Greetings Island Pros
Mobile App is available: Android, iPhone
No watermark on the invitations designed by this mobile app
The designed invitation can be download, print, and share directly to WhatsApp through the smartphone.
100+ free ready to send housewarming invitations are available
Blank templates are available with a frame, border, and different size layouts. The user can also upload their design/Photo to these blank templates and design accordingly.
Greetings Island also has a website which helps users to create housewarming invitation from the PC
No Signup, Login, and Subscription are required when you design an invitation through the Greeting Island mobile application.
Greetings Island Cons
RSVP tracking facility is not available on the Mobile App. This feature is only available on a Greeting Island desktop website which required a monthly subscription of $2.95 per month.
How to Create Housewarming WhatsApp Invitation with "Greetings Island"
In this section, you will see the step by step instructions to create a house warming invitation for WhatsApp with Greetings Island Mobile Application.
Total Time: 3 minutes
Step 1: Download and Install the Greetings Island App
Greetings Island housewarming invitation maker is available on both Android Playstore and Apple Appstore. Choose according to your device.
Step 2: Open Greetings Island Application and Select Housewarming Category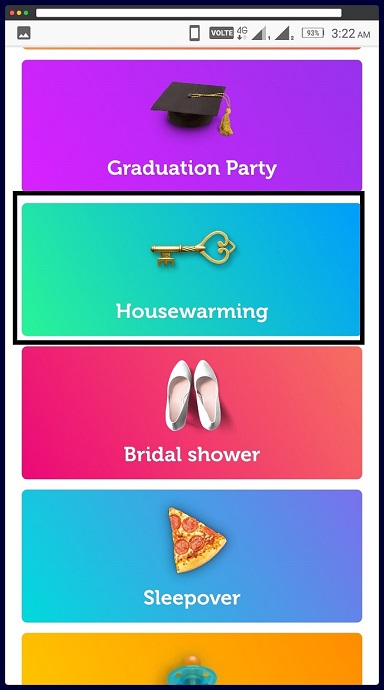 You also have an option to create a housewarming invitation by uploading your design into the blank templates provided by the greetings island app. For this simply tap on the "upload your own" button. But I am going with "Housewarming Category"
Step 3: Choose a Housewarming Invitation Template
Now you can see hundreds of ready to send housewarming invitations templates. Select any invitation you wish to send over WhatsApp.
Step 4: Edit the Invitation Template
After opening up the invitation template, you can see some of the text fields are highlighted by a dotted border. Dotted border highlighted text fields are editable.
Step 5: Change Housewarming Event date, Invitation Message, and Address
To edit any text field showing in the housewarming invitation for example housewarming party date, simply tap on it. Then you can see 5 design options will appear on the bottom:
1. Edit: Tap on the edit button to change the text
2. Font: Tap on the Font button to change the font of text from available font selections.
3. Size: Tap on the size button to increase or decrease the font by moving the slider.
4. Color: Tap on the color button to change text color.
5. Align: Tap on the Align button to set alignment
Step 6: Add Custom Text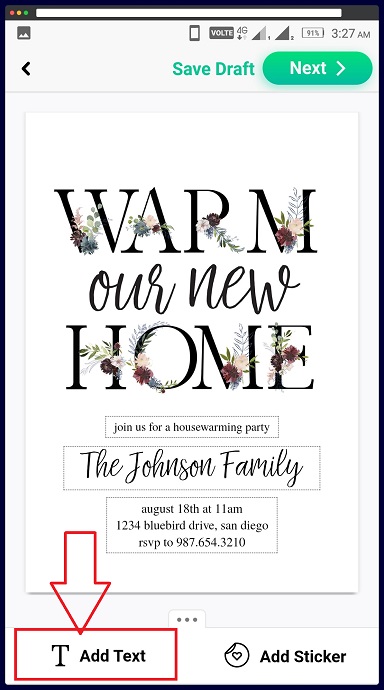 With this house warming invitation card making app, you can add your own text field in the template design by tapping on the "Add text button"
Step 7: Add Sticker/Logo/Custom Image
Besides the add text field, there is an option available called "Add sticker". By tapping on this you can add a sticker or your new house logo or your family image to the housewarming invitation template design.
Step 8: Save Your Virtual Housewarming Party Invitation Design
After completing the design part, click on the Next button. Then you have an option to save the invitation in your smartphone gallery or share on WhatsApp or print directly from your mobile.
Note: Before choosing a print option, you must connect the printer with your phone. Selecting the print option allows you to save this housewarming invitation in a PDF format.
Greetings Island Android Playstore: Download here

Greetings Island Apple Store: Download here
Method 3: Using "Etsy Virtual Housewarming Invitations"
Do you know that Etsy has Virtual invitations in their gift products?
I also didn't know until last week, But when I search virtual housewarming invitation on Etsy, I find some amazing handmade invitation design which is primarily designed for housewarming event.
Etsy Virtual Housewarming Invitations Pros
No hassle for manual invitation creation
Buy only 1 premium invitation (PDF, PNG) and send it directly to all guests through WhatsApp.
Cheap prices
You can ask for a custom design or any particular change in the invitation to the sellers. Most sellers accept buyer's custom requirements.
Etsy Online Housewarming Invitations Cons
The only problem with Etsy's digital invitations that they don't have an RSVP tracking facility.
How to make Housewarming Invitation Card Online with "ETSY"
Search housewarming invitation on Etsy.com and choose any design according to your wish.
Buy the invitation on Etsy.com
After purchasing you must receive an email from Templett.com or any other online photo editor (the one which your seller recommends). In that email, you get an editable invitation template link. Open it.
Insert your name, housewarming event details into that editable housewarming invitation template.
Save and download the invitation. Either share it with your guests on any social media platform. Or simply print the invitation if you want to courier the invitation in a print format.
Etsy Virtual Housewarming Party Invitation – Ideas
FAQ – Housewarming Online Invitation
How to Make Housewarming Invitation Video?
Housewarming invitation video can be created by the following 4 steps: First, Find the mobile application or website that provides editable video invitation templates. The second step is to select a template. The third step is to edit the template by inserting information that includes invitation message, party date, new home address, RSVP information, and family photo. The fourth step is to save and export the housewarming invitation video and share it through social media or directly by email.
Conclusion
My Favorite method to create online invitations is Canva. Because it is awesome, modern, and can help you to create animated engaging invitations.
So, this is how you create virtual housewarming party invitations. Comment below if you have any query and don't forget to check our more guides on housewarming planning on our website and Pinterest.
Follow us on Pinterest to get interesting content related to Housewarming!
What Others Are Reading